Taco Tuesday. I love that this corner of the world is so into tacos and alliteration that we celebrate almost every Tuesday with tacos.
What's for dinner? It's Tuesday. Of course, we're having tacos.
I'm happy to have tacos any day of the week—or several days of the week. In a row. Today is Tuesday, so I thought I'd share a few of my very favorite taco spots.
But I want this to be interactive, friends. I need to know where you get your favorite tacos!
My Favorite Tacos
(in no particular order)
Pappasito's chicken fajitas are always at the top of my list. Always. Tender, delicious meat, garlic butter sauce, pico de gallo, fresh salsa, mmmmm. And yes, I count them as tacos because I wrap all that deliciosity in a fresh flour tortilla. I love every bite. I love it so much, in fact, that I'm willing to drive hours just to eat Pappasito's fajitas.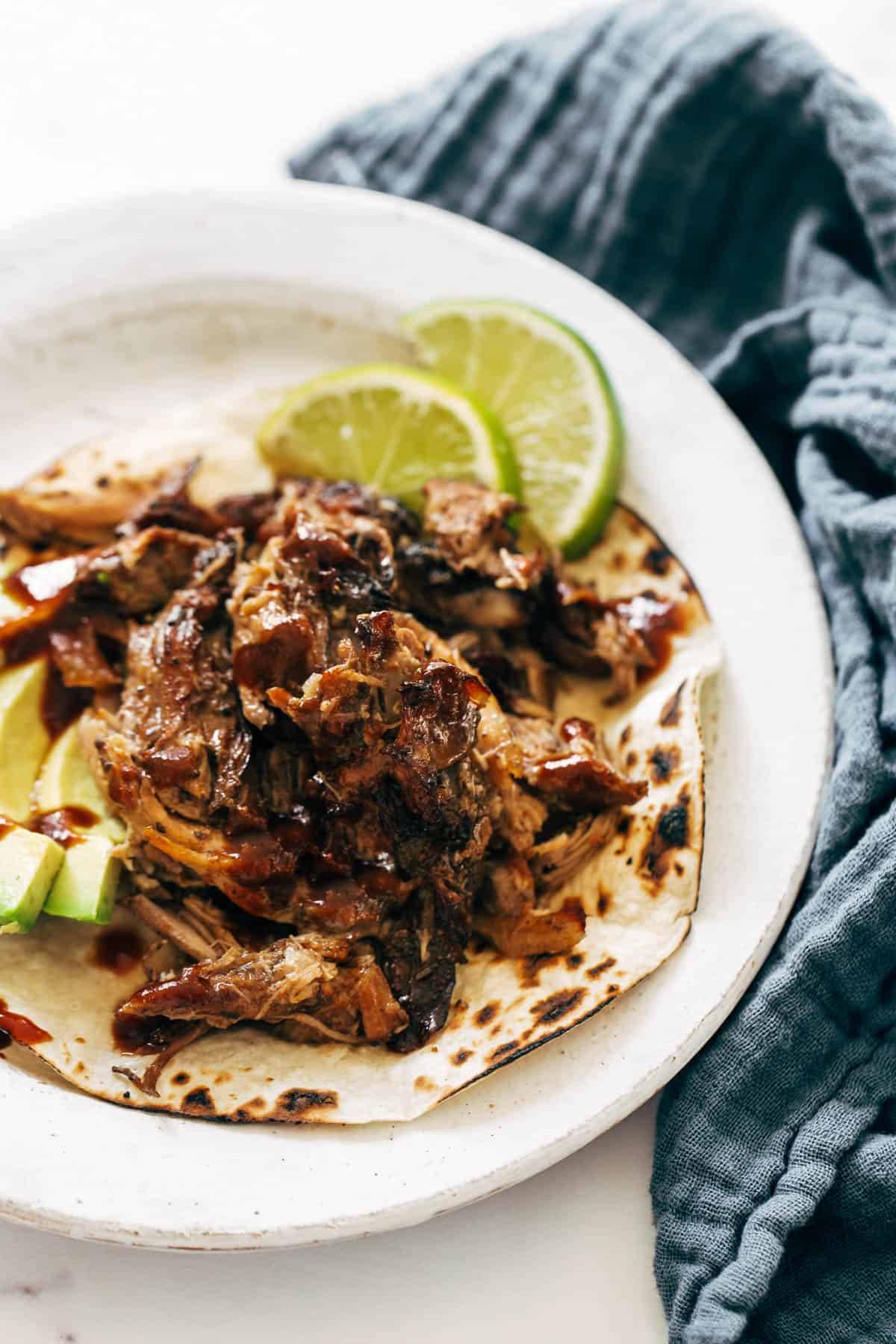 Homemade Crockpot Carnitas using Lindsay's recipe from Pinch of Yum are a family favorite. Buy the pork butt on sale and cook for a crowd. You'll still have leftovers to send home with people. I've made this dish when I'm taking dinner to friends who need a little extra love, and there is always plenty for everyone.
Serve them with warm tortillas, guacamole, sour cream, shredded cheddar, and pico de gallo.
Mad Taco's Cubano is not your typical taco. The house-famous toasted tamale bread (not a tortilla) is filled with shredded citrus pork, ham, Swiss cheese, mustard sauce, and pickle. There's so much yum in this taco. Mad Taco is a locally owned and operated restaurant in College Station, Texas. And sure, you can get a salad, chips, and a divine queso-guacamole combo called the GQ, but the tacos are why we go. And at least one Cubano is on my order every time.
Flounder's Grilled Mahi Tacos, mmmmm. I miss Flounder's. I mean I really miss Founder's. If you're ever on Pensacola Beach, please go. Take the kids and let them play on the sandy playground. Take a cheesy picture in the giant chair and with the man-eating clam shell. I still get the email for a free piece of key lime pie for my birthday every May, which I don't dare delete on the chance that I'll get a wild hair and head to Pensacola, Florida, on the spur of the moment. Hey, it could happen!
Okay, back to the tacos. The grilled mahi tacos come with guacamole, cumin infused sour cream, house-pickled red onions, shredded red cabbage, jack cheese, mango pineapple salsa, cilantro and topped with fresh jalapeños. I got this meal the first time because so much of what was on the menu is fried. I'm not opposed to fried food, but sometimes you want something a little lighter. Flounder's Grilled Mahi tacos hits the spot.
Speaking of Florida, Brisket Breakfast Tacos from JJ Chago's are scrumptious. When we were living in Navarre, these tacos were a Saturday-only thing. You had to get there early and wait in line and hope they hadn't run out of brisket. I'm not great at getting up early on a Saturday, so sometimes, I was too late. I'm very happy to see that these are on the regular menu now, (good call!)
(JJ Chago's was the first place that I tasted and promptly fell in love with the Cubano sandwich. Sadly, it's now on the Sunday-only menu.)
And speaking of breakfast, I'd be remiss not to mention the breakfast tacos at La Familia Taqueria in College Station, Texas. Now, let me start by saying that this is the only restaurant connected to a gas station that I'm excited about going to. Well, except for Buc-ee's. But La Fam's breakfast tacos are better than Buc-ee's breakfast tacos—which are pretty dang good.
Honestly, La Familia's breakfast tacos are the best I've eaten. And I've tried a lot of breakfast tacos. It seems so simple: eggs, bacon, cheese, and a tortilla. I'm not sure what it is, but man, I love them. One or two of those with a little medium salsa, and you're fueled for the morning.
So that's my list of favorite tacos. Whether you're going for Taco Tuesday or taco today, you can't go wrong with any of these.
Tell me about your favorite taco spot in the comments—the world needs more great tacos!